Expressions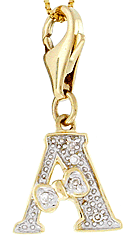 Interchangeable Diamond Charms
Wear it ů.Show itů..Express itů.
These beautiful Interchangeable initial charms are worn as pendant as well as hook on the bracelet. Masterfully constructed, the charms are adored with Bows and Hearts to enhance their beauty. The starting package comes complete with 26 letters in your choice of White Gold or Yellow Gold, a 7? Rolo Bracelet and 18? Box chain. A beautiful lacquer finished tray and backdrop complete with customized graphic are provided free ($100 Value). Once you get a package you will be registered in our database for subsequent purchase of single charms at $49 only (Regular $79). For a limited time the package is offered at $1299.00. Click to order the package.
We always carry these in stock and you are always assured of early delivery. Click here to order individual alphabets. Chains are sold separately.
All orders received before 2 PM are shipped the same day.